| | |
| --- | --- |
| Posted by AFarmhouseFull on August 30, 2011 at 4:35 PM | comments (2) |
I am always on the look out for fun learning activities to do with the kiddos.  I thought I would occasionally start sharing some of the activities and projects I do with the kids.  I have started new categories in the sidebar for them to make them easier to find: Preschool and Elementary.
Today's activity is a preschool one; although the older kids were intrigued with the tongs and ended up as mini-teachers.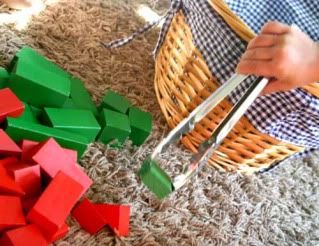 Tong Sorting
Skills: fine motor, color sorting, counting
Materials Needed:
Different colored blocks
Tongs (one for each child)
Large basket, bucket or bin that holds all the blocks
Instructions

Start by mixing all the blocks together and dumping them on the floor in a heap.  
Next, set one block of each color to start your piles.  
Instruct your children to use the tongs to grasp a block (one at a time) and place it in the pile it belongs in (by color).  
After they have sorted the entire pile count each individual pile. (MATH TIE IN: you could make a bar graph that illustrates what color had the most, least, etc) Once the piles are counted instruct the children to "pick up 2 red blocks" and put them into the basket/bin.  Now "4 blue blocks", etc…until all the blocks are picked back up and put into the bin.  
Not only have your children practiced sorting, fine motor skills, counting and listening to instructions – they have cleaned up their own mess!