AHHHH.....I am so flippin' excited!! I LOVE LOVE LOVE LOVE how this redo turned out.  Now, if money were not an issue I would have swapped out our couch for a white one.  I am somewhat in love with the Ikea ektorp sofa in white.  Although once my time in Never Never Land has ended I am reminded that it may not be practical to have a white couch with 6 kids who have been known to somehow acquire a 3-1/2 inch accumulation of mud on their shoes. 

Here is how our living room looked back in May.  I had received two book cases that needed a coat a paint and some crown molding. We had also inherited some really nice (REAL) leather chairs and I found a Pottery Barn-looking table on Craigslist to put between them.  While I loved the new seating arrangement, slowly everything started turning brown.  Every new piece we ended up with was a shade of brown and it was just TOO MUCH brown!  I love brown like anyone else.....but EVERYTHING?  No thanks.  I needed some COLOR and light!  Below was my inspiration room via pinterest (a Lettered Cottage design for HGTV).  SEE? Doesn't that WHITE couch look amazing!?  Oh well, maybe a slip cover in an oat color is in our future.
INSPIRATION ROOM
Just to prove we are COMPLETELY crazy... I started painted the bookshelves a mere 48 hours before Christmas Eve while knowing full well that I was hosting Christmas dinner here at the Farmhouse and also had a PACKED schedule between painting and hosting (Christmas with my in-laws, Christmas church service and wrapping the presents for SIX kids). Why I chose to dig in is anyone's guess. After emptying the book shelves there were books EVERY WHERE!!! Yep, that is my dining room where I was to be hosting Christmas dinner for 15 people in less than 48 hours!  AHHHHHH!!!!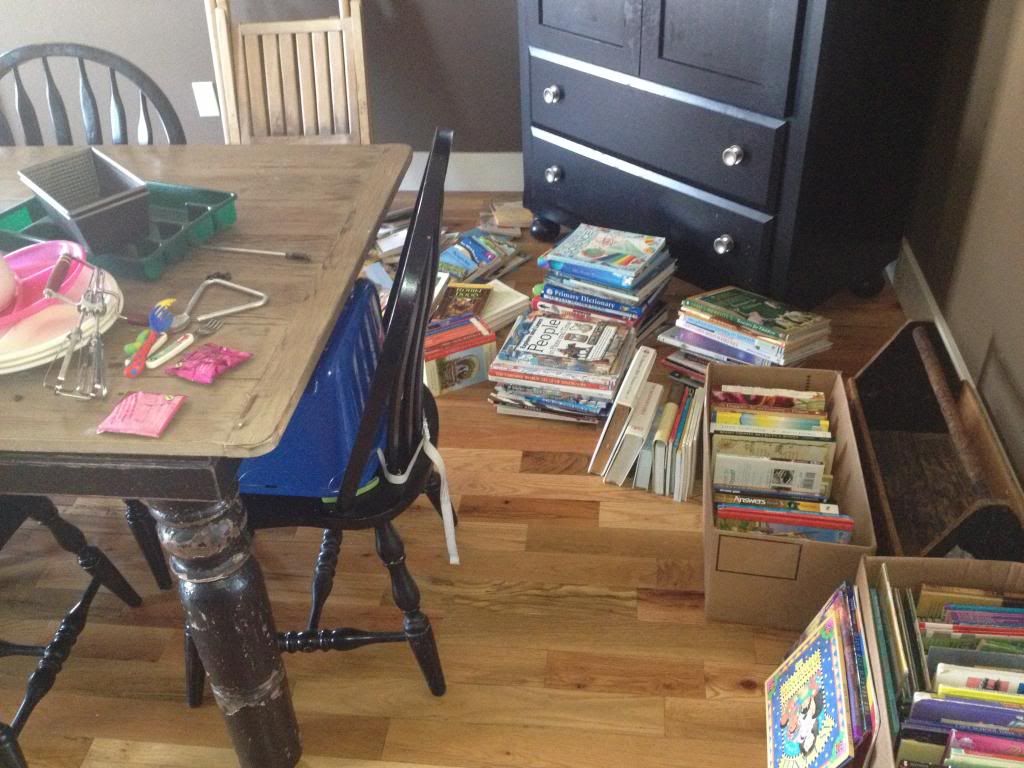 I got the bookshelves finished (3 coats and a layer of wax) and started puting some sample swatches on the walls to try to find the perfect shade. The one on the left if the wood stove is Oyster Bay from Sherwin Williams (the one from my inspiration room).  It ended up too dark and too green.  I wanted more of a light aqua.  The one on the right was perfect!  It is Pottery Barn's Woodlawn Blue by Benjamin Moore.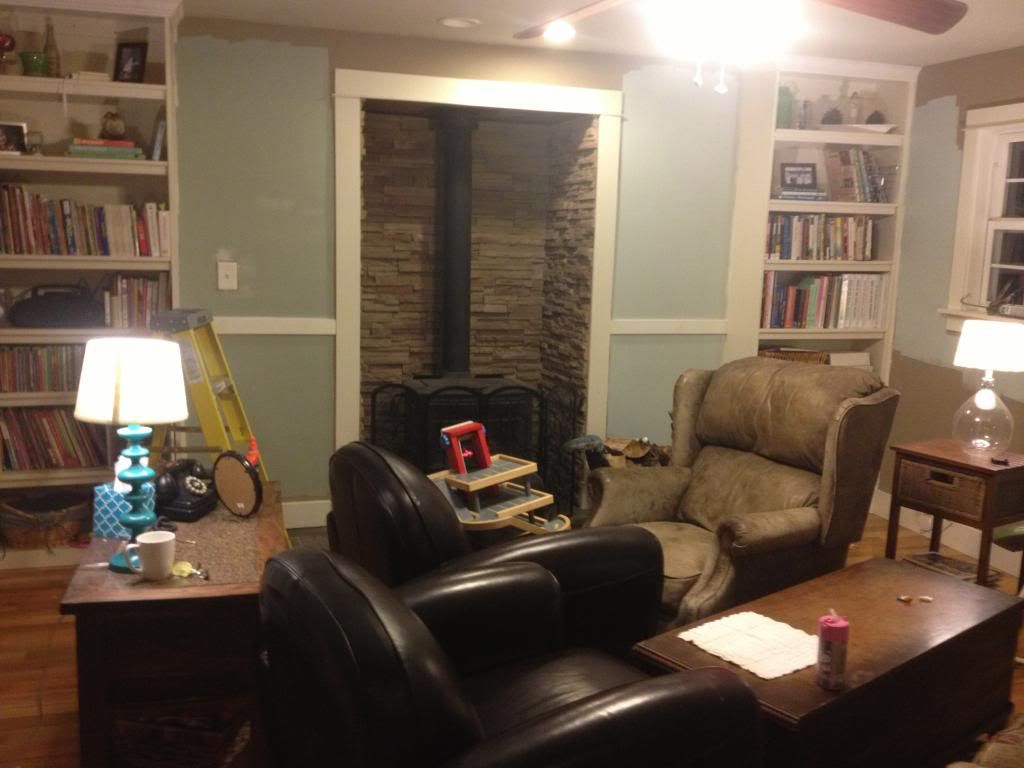 We added some trim to fake some board on batten like we did in the kids bathroom.  I also touched up all the trim paint.  During this process everyone (but the baby) came down with the flu but I was bound and determined to get this done during my short holiday break from homeschooling the kidlets.  DIE HARD! Notice my sick hubby passed out in a Nyquil coma on the couch! Yeah, it was bad.  I stayed up till 3 am for two nights in a row to get it done.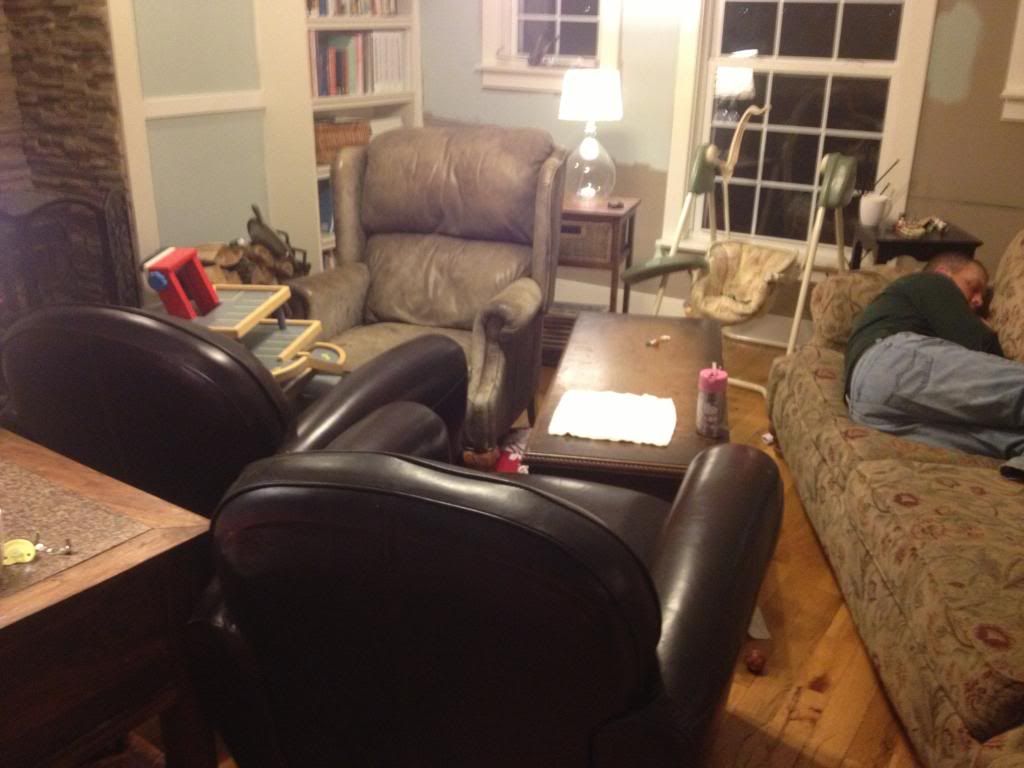 Then the new color went on.  I LOVED it!  Like, I would marry it if I could!  It was a perfect shade and perfect hue for what I wanted.
We added a new jute rug and a few new lamps but everything else is the same. I didn't have the funds for new furniture.  I am working on painting my backdoor red like the inspiration room. I will show you that when I am done. I am also trying to convince my hubs that a light colored slipcover on our couch would not be impractical.....not sure if I am going to be able to even convince myself of that......
(see in the very far right side - the beginning of a red door.... YAY!) Valspar's Heirloom Red

We also painted and distressed some furniture with homemade chalk paint.  I learned about chalk painting here and was super excited to try it.  I was VERY concerned about how it would hold up on the chest that serves as a foot rest and a hot wheels trick-course.  It hasn't chipped yet, so I am impressed!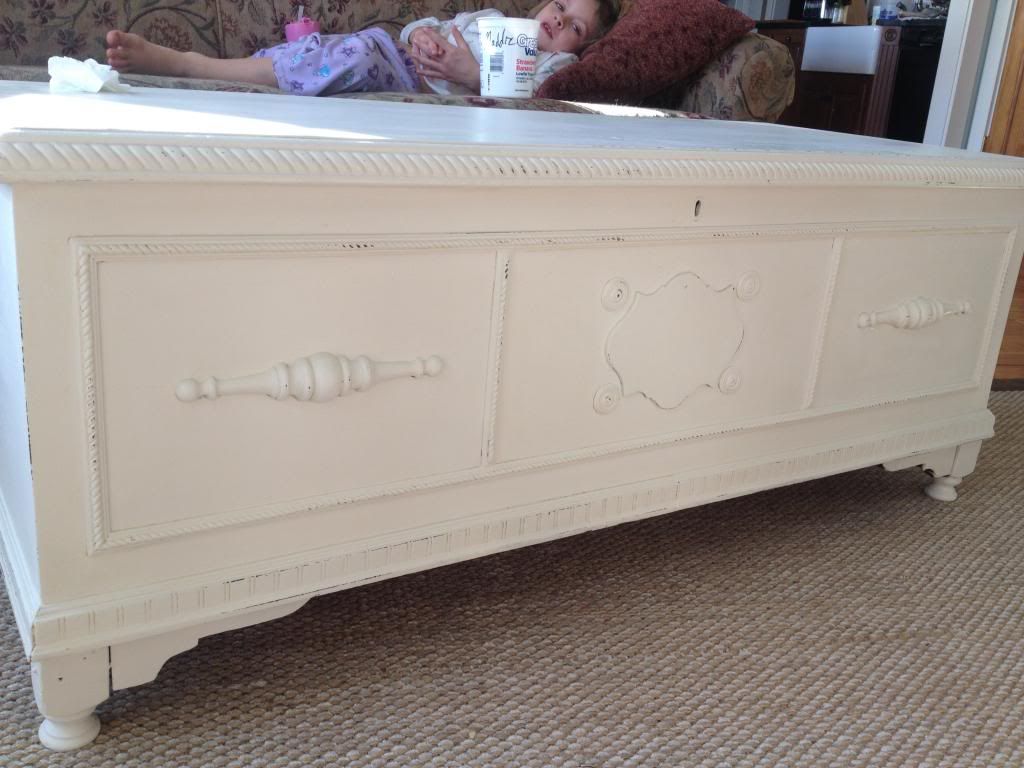 See poor flu-stricken Maddie and her puke bucket......uggggg....the flu SUCKS!
New gallery wall.
I added six frames alongside the book shelves just like I pictured it in the drawing I made last May.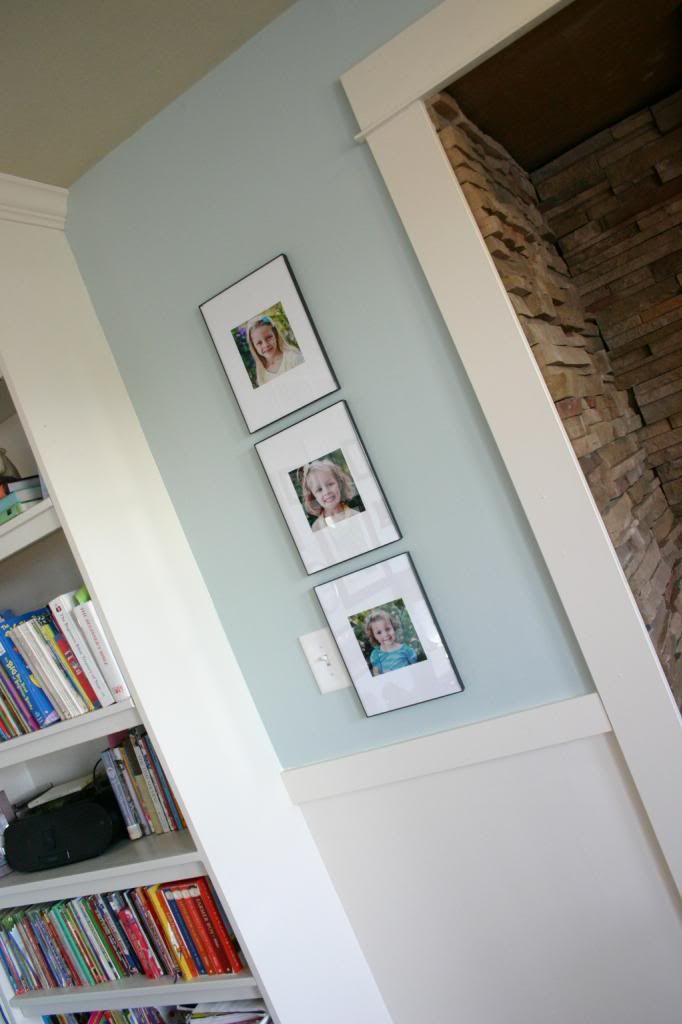 And here she is in all her glory!!
Yeah, it really lightened things up!
How do you like it?!